By Clint Fletcher
Becoming a pro athlete in the U.S. is no easy feat. Out of a population of 328 million, only a select few make the cut each year. According to the NCAA, the five major sports leagues (baseball, football, hockey, men's basketball, and women's basketball) only have just under 1,800 draft picks combined annually. And for those lucky ones who make it, their career becomes all-consuming.
If you're a professional athlete, all those years of training and competing can play into your sense of purpose. That work has been a part of you and your identity. So what happens when the game ends? How do you deal with the fading of the spotlight? Is there a way to regain vision and purpose in your life outside of your former career?
Life After Sports
It's common for former professional athletes to struggle with a lack of structure. The constant rhythm of training seems to disappear overnight. When you're active in your career, you have everything scheduled for you. The when, where, and for how long is up to the team or institution, and you're just along for the ride. You're also used to a certain amount of attention from friends, fans — even the press; and the absence of this attention can be difficult to deal with.
If you're an athlete at the end of your college or pro career, it's absolutely essential to grieve what you're losing.
Then comes the issue of finances. For those fortunate enough to become famous, retirement is a bit easier. Not only do well-known athletes have more earnings to save from higher salaries, it's also easier to continue endorsement deals or carry on in the sports world as a TV or radio commentator. But most players? Not so much.
Living at a high-profile level may have drained your resources, and without that income stream, it can be difficult to maintain your lifestyle. This is also a serious change that may be abrupt for players who aren't sure how to transfer their skills to the business world. Adaptation is critical at this stage, and sometimes players are able to use the resources they have to invest in small businesses. In fact, according to the research statistics website Small Business Trends, 23% of NFL football retirees are now small business owners.
Retired Athletes and Drug Addiction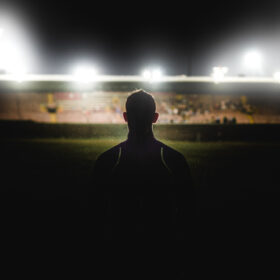 Some famous athletes have been candid about their struggles with painkillers or other substances, like Tiger Woods and Brett Favre, and there are problems for retired athletes as well. Decades worth of training can take its toll on the human body, not to mention multiple injuries over the course of a career. One study published by the Clinical Journal of Sport Medicine showed that over 25% of retired NFL players who were exposed to opioids during their active playing years had used them within a month of the survey. And some athletes have admitted to becoming addicted due to lack of health insurance in retirement.
During a town hall panel last year on opioid abuse, retired quarterback Ray Lucas confessed to an opioid addiction because he couldn't afford neck surgery for a previous injury (the NFL only offers five years of health insurance for retirees). According to Forbes, the average salary across all American professional sports leagues is anywhere from $300k to $6 million. That may have sounded like a lot of money when you were young, but when you retire in your thirties or forties, that coverage runs out fast – and you have to find a substantial policy that can cover your needs for decades to come.
Grieve, Heal, Create a Vision
If you're an athlete at the end of your college or pro career, it's absolutely essential to grieve what you're losing. Saying goodbye to something that consumed you for so long and acknowledging those feelings is part of the grieving process. Most people think we only go through the stages of grief when we lose someone we love, but that's not true. Losing something we love can cause us to experience the same range of feelings.
The Five Stages of Grief are:
Denial
Anger
Bargaining
Depression
Acceptance
Once you've fully grieved, you can embrace the exciting concept of reinventing yourself. You can do whatever it is you want to do without the rigorous schedule of training, practice, travel, and competition. You are now free to invent a new dream for yourself that may or may not include the sport you were successful in.
Rediscover a Sense of Purpose at The Meadows Malibu
If retiring from elite athletics or a professional sports career has resulted in deep grief, depression, a loss of purpose, substance abuse, or depression, you may want to consider treatment to help you work through these issues. The Meadows Malibu is a private, 12-bed facility fully prepared to support you through this difficult time with a customized treatment plan to meet your unique needs. We can help you develop the tools necessary for transformation and reinvention so you can find healing and new purpose.
To learn more about our treatment program, contact us today.