By Clint Fletcher
The opioid epidemic continues to plague the United States at a rapid pace with no end in sight. According to the US Department of Health and Human Services, an average of 130 Americans die from opioid overdose every day, and approximately 2 million people admitted to having an opioid problem in 2018. While opioid addiction can affect all age groups and all social classes, there's one particular group that's been hit especially hard: athletes. Opioid painkillers have taken hold of some of the best athletes in the world, with superstar Tiger Woods and former NFL quarterback Brett Favre being just a few of those who spoken openly about their struggles.
Why is there such a strong correlation between opioids and athletes — from high school and college to elite or professional — presenting a clear danger to the world of sports?
The Opioid-Athlete Connection
Most athletes have to go through years of rigorous training in order to compete, especially at the high school level and above. Strenuous training means more injuries, and injuries lead to more doctor's visits and surgeries. In both scenarios, painkillers are often prescribed by doctors for relief. As a result of this trend, a growing body of evidence is starting to emerge on higher risk levels of opioid addiction with athletes. One 2015 University of Michigan study revealed that those who played at least one sport in high school were at greater risk for lifetime prescription opioid use when compared to non-athletes. Another study published in the American Journal of Public Health on high school athletes in 2013 showed that students participating in high-injury contact sports like wrestling, football, hockey, or lacrosse were around 50% more likely to abuse opioids than students the same age that didn't participate.
There's also a competitive aspect in professional sports that can lead to abuse. If a player is in pain before a game, it's far easier to take painkillers to outperform the other team as opposed to going to the doctor or opting for surgery. This ignorance of injury can lead to a build-up of scar tissue. And while hard data on abuse among current professional athletes is difficult to come by, the anecdotal evidence in recent years has led to more scrutiny of the leagues.
Retired NFL wide receiver Calvin Johnson famously admitted in a 2016 interview with ESPN that opioids were easily accessible in the locker rooms, with team trainers and physicians handing out painkillers "like candy." A year prior to that, over 1,600 former players united to file a lawsuit against the NFL, claiming that medical professionals supplied painkillers for players recklessly. The case was dismissed earlier this year by a federal judge due to lack of evidence.
Opioid Abuse by Retired Players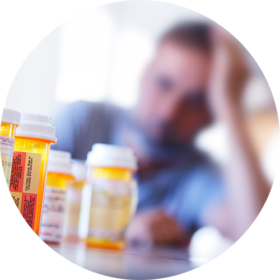 While studies on current athletes may be scarce, there's an alarming amount of evidence coming from data on retirees with the benefit of time and hindsight. One study published just last year revealed over a quarter of retired NFL players exposed to opioids during their playing years said they had used opioids within 30 days of the survey. Out of that percentage, around 12% reported misuse (defined as either taking medication that was not prescribed to them or taking medication other than prescribed). And although the average salary for active professional sports players ranges from $300,000 to $6.2 million across the board, the average shelf life for most athletes is relatively short. They all eventually lose their health insurance after hanging up the uniform. During a recent "Knock Out Opioid Abuse" town hall panel, former NFL quarterback Ray Lucas stated that a lack of health insurance definitely helped contribute to his opioid addiction because he couldn't afford surgery for his neck injury. While other leagues have more generous packages, the NFL offers five years of insurance post-career.
So, What Are the Dangers?
When anyone mentions opioids, they're referring to a particular class of drugs that are normally used for pain relief. The most serious of this class would be fentanyl and heroin, but narcotics like oxycodone and codeine are included as well. According to the National Safety Council, accidental deaths in America hit the highest number in recorded history in 2017 due to the opioid epidemic. With 64,795 deaths (up by over 6,000 from the previous year), overdose deaths are No. 1 over car wrecks and falls, hardly a list you want to top. Around 47,000 of those deaths were from opioids.
Anecdotal evidence shows that opioids are primarily taken in prescription pill form throughout the sports world, but that doesn't mean a current or former athlete couldn't become addicted to an even stronger drug. Due to the fact that prescription opioids have a similar effect as heroin, some people hooked on pills end up switching to heroin to chase the same level of relief after building up a tolerance or when the prescription medication is not as readily available. But no matter what the drug, abusing opioids is very dangerous.
Know the Signs
The biggest danger to continuing prescription opioids on a regular basis is developing respiratory problems by slowed breathing. This can lead to sudden death. (We have more information on opioid side effects and withdrawal here). It's also extremely important to recognize the signs of a possible overdose. If you spot any of these signs, call an ambulance immediately:
A person's body goes limp
Breathing or heartbeat slows or stops
Face is extremely pale or feels clammy
Lips or fingernails have blue or purple coloring
Vomiting or making gurgling noises
Unable to speak or can't be woken up
A Problem With a Solution
Pro athletes have a motivation others don't have: to perform on a higher level physically on a regular basis. They get broken bones, concussions, torn ligaments, sprained limbs — things most of us may only face once or twice in a lifetime, if ever. And when we do have to face them, we can normally take it easy at work. They can't. The pressure to be the best and to win at any cost is real. Fortunately, there is very real help available as well. We have experience with pro athletes and other high-achieving professionals. Contact us at Broad Beach Recovery Center to discuss a customized treatment plan that fits your specific needs.