By Christa Banister
In the past couple of years, thousands upon thousands of Californians—northern, southern and nestled in between—have contemplated the question that many of us have only considered hypothetically: What would you take if evacuating a fire?
It's a scary proposition, and for many of the aforementioned citizens of the Golden State, it's something that's happened more than once. The smell of smoke, hazy skies, the ticking clock of official evacuation orders, the sheer unpredictability of leaving your home and knowing the long and difficult process of rebuilding that awaits. Trauma and its many triggers often linger long after the smoke has cleared.
Whether it was the devastating Malibu fires of 2018, the blaze that ravaged Santa Rosa, the urban center of Sonoma County's wine country, or the Camp Fire in Paradise, the deadliest and most destructive wildfire in California history according to the Sacramento Bee, the impact of these disasters can leave communities reeling months, even years, after.
Running for Her Life
Danielle Bryant was one of those people two years after the Santa Rosa fire. She told KQUD Science she felt like she was "still running for her life." Noting how the number of homes lost, which included hers, took everyone by surprise, she said "her heart was racing" at the very thought of going into the unknown again and not knowing if there would be anything left upon her return.
Although it was a situation she'd faced before, the recent fires were a grave reminder of what she'd endured in the past. The aftermath had impacted every area of her life—her mental health, marriage, job, and of course, the very real fear she could face the situation again after rebuilding in the same neighborhood. Like many, she considered leaving California but wasn't sure where the more ideal place to live would be since every corner of the world has its challenges.
Navigating Illness in the Face of Tragedy
In the midst of a recent breast cancer diagnosis, a 79-year-old woman named Dorothy Hammack was forced to switch gears from exploring treatment options to another kind of survival mode following the Kincade Fire in California's wine country. Forced to take shelter at a makeshift evacuation center, hundreds more evacuees would soon join her—many sharing urgent medical needs, according to U.S. News & World Report.
Nurses on staff at the facility described how many of those who'd evacuated were suffering from PTSD after surviving fires only a year before. While they were more prepared in terms of having a few more helpful items like extra clothing and supplies, Peggy Goebel, a nurse who was overseeing the mostly volunteer-run medical operation, said "the chaos of evacuation" made everything more challenging.
To wit, along with medics, there were licensed therapists on the premises specially trained to help counsel people during the unique emotional challenges of natural disasters.
Addressing Post Traumatic Stress Disorder and Trauma
While Post Traumatic Stress Disorder (PTSD) is probably most commonly associated with soldiers returning to civilian life after a lengthy deployment, those living through fires and other natural disasters can experience it. Everything from earthquakes, tornados, floods, volcanic eruptions, landslides, and tsunamis can lead to PTSD or trauma that can persist for years if not treated.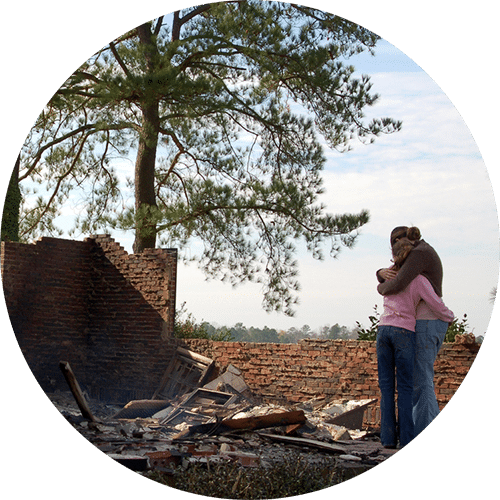 These experiences are particularly harrowing, according to Psychology Today, because they "tend to traumatize large populations of people at once, and can result in epidemics of Survivor Guilt and other PTSD symptoms."
Since natural disasters can occur without much advanced notice and the very thought of them can feel overwhelming and paralyzing, the most immediate reaction is shock, which can manifest itself in a variety of ways including denial. Sometimes quickly, sometimes in a more delayed fashion, shock can rapidly give way to anxiety, guilt, depression, or a combination of the three.
According to the American Psychological Association, common symptoms of trauma include:
Mood swings, anxiety, depression, irritability
Flashbacks where there's repeated and vivid memories of the event with physical manifestations including sweating or rapid heartbeat
Confusion or difficulty making decisions
Sleep or eating issues
Fear of the traumatic event happening again
Changes in how one navigates interpersonal relationships, maybe becoming more withdrawn or more conflict-driven
For some people, natural disasters produce feelings of helplessness, prolonged grief, and defeat, while others may feel a sense of betrayal from God, the universe, or a higher power, which can lead to a loss of faith. One thing is for certain, however: Everyone responds to trauma differently, which is why prioritizing treatment can be a real game-changer moving forward.
The Importance of Addressing Underlying Trauma
Trauma, which is described as an "emotional response to a terrible event like an accident, rape, or natural disaster," can be the underlying cause of so many negative thinking patterns and behaviors.
That's precisely why Meadows Behavioral Healthcare treatment programs include customized trauma care. An integral part of the treatment process is getting to the root of what's causing someone's negative thinking and response. Treating the whole person (not just the primary or most obvious issue) is a key step in understanding what might be causing or further complicating someone's mental health or addiction issues.
Dealing with the aftermath of a natural disaster isn't something anyone should tackle alone. If you've been through trauma and need help establishing coping skills and a healthy mindset where healing can become a priority, contact us today.