By Anna McKenzie
Since its inception in the early 20th century, Alcoholics Anonymous (simply called "AA" by many) has grown exponentially. The peer recovery and self-help program has endured the test of time, growing in popularity, with current membership estimated to be more than 2 million members worldwide, according to AA.org. But while the program and its terminology have become part of modern culture, how much do you really know about the 12 Steps?
The ABCs of AA
Alcoholics Anonymous, the original 12-Step program, was founded in 1935 by Bill Wilson alongside his friend Dr. Bob. In 1939, Wilson (known by most as Bill W.) wrote a book by the same name. Often referred to as "The Big Book," the text is foundational in most AA meetings.
The 12 Steps are a set of principles that support an alcoholic's journey to recovery, and they have since been adapted for other fellowships, like Narcotics Anonymous (NA). The 12 Steps are rooted in Christian spirituality — but as fundamental truths, they have supported alcoholics and addicts of all worldviews on the road to recovery. The power of the 12 Steps lies in its emphasis on acceptance, honesty, connection, and responsibility, traits that have made 12-Step treatment effective for many.
The Effectiveness of the 12 Steps
So now you know what they are, but how do they work? The 12 Steps focus on being honest with oneself and others, emphasizing these tenets:
Relinquishing control and accepting the help of others and a Higher Power
Acknowledging the impact of one's actions on self and others
Taking proactive steps to right one's wrongs and repair relationships
Committing to maintain the change created by practicing the steps and carrying the message of restoration to others in need
The 12 Steps promote self-ownership and responsibility, which is critical to personal development, and they also provide instruction for how to interact with others in a humble, healthy way. Research has proven that connecting with others has a significant effect on a person's ability to recover from substance abuse. Both treatment professionals and those in recovery can attest to the power of community in helping individuals maintain sobriety, recover from relapse, and reach their goals.
The History of 12-Step Programs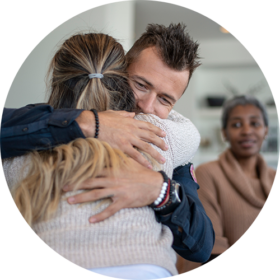 According to AA.org, the 12 Steps originated from the recovery efforts of Bill W., a New York stockbroker whose addiction to alcohol caused him to lose his job. He had been attending meetings of the Oxford Group, a fellowship focused on spiritual living, and had worked with a friend, Ebby T., to become sober. Bill W. believed that alcoholism was a disease of the mind, body, and spirit. As he worked to help other alcoholics, he met Dr. Bob, a surgeon from Akron, Ohio, who had so far failed to attain recovery from alcoholism. Together, Bill W. and Dr. Bob founded a fellowship solely for alcoholics, and the 12 Steps became its guiding principles.
The success of the first 12-Step program led to the emergence of other 12-Step fellowships, such as NA for drug users, and Dual Recovery Anonymous (DRA) and Double Trouble in Recovery (DTR) for those who suffer from both an addiction and a mental health condition. There are even more specialized groups, such as Cocaine Anonymous, Marijuana Anonymous, Crystal Meth Anonymous, Heroin Anonymous, and Methadone Anonymous (for those who are on methadone maintenance treatment). 
Generally, 12-Step meetings occur in community buildings or churches, where space is rented or open during the week. They can occur on the grounds of an inpatient treatment center (for patients) or an outpatient center, but they are most often located in multi-purpose rooms where there is both privacy and accessibility to the community. These meetings have traditions based on what has been found to work, also known as the 12 Traditions. 
In reporting about the continued efficacy of the 12-Step program, the NCBI states, "Its suggested prescription for sobriety, mental and spiritual well-being, referred to as 'the AA six pack' is deceptively simple: don't use no matter what, go to meetings, ask for help, get a sponsor, join a group, and get active. … The essential keys to recovery, symbolized by the acronym HOW, are honesty (with self and others), open-mindedness (to explore new ways of thinking and behaving) and willingness (to acquire new behaviors and thought patterns)."
How Meadows Programs Use 12-Step Groups to Support Recovery
With its long history and proven track record, it makes sense that AA and the 12 Steps are still going strong. At each of our Meadows Behavioral Healthcare campuses, 12-Step groups and truths are integrated into the program to build community and provide patients with a bridge to sustaining recovery once their stay in treatment is completed. We use these time-tested principles alongside our research-backed protocols for helping each person attain emotional, mental, physical, and spiritual recovery.
Many of our staff are in recovery themselves and can guide patients through the process, having experienced what they are experiencing. If you or a loved one is in need of comprehensive treatment for substance abuse, please get in touch with us today. We would love to tell you more about our programs and how we can foster your recovery journey. 
Since 2015, well over 30,000 American parents have had to bury a child due to drug overdoses. Everyone suffering from addiction was once a child — it can happen to anyone at any age from any social background. Drugs waste your brain, hijack your soul and, if left untreated, can last a lifetime. At Broad Beach, we bring hope and recovery to those who walk through our doors — so that another parent doesn't have to lose a piece of their heart to addiction. If you or a loved one is suffering, call us now.