By Wesley Gallagher
Addiction recovery can seem like a lonely process. Especially if you attend a residential program where you take time away from your life, it can easily feel like you're alone on this difficult journey to get well. In reality, you probably have many family members and friends who are eager to support you in your recovery process.
According to the National Center for Biotechnology Information (NCBI), family support in addiction recovery is a key aspect of long-term success, increasing the likelihood of treatment completion and improving outcomes for individuals struggling with addiction. Family involvement in recovery is important for family members as well, as family units are heavily impacted by an individual's addiction.
Addiction Impacts the Whole Family
A family is a sort of ecosystem where everything works in harmony when it's healthy. So, when one individual struggles with addiction, the entire ecosystem is thrown off-balance. What this often means is that other family members adopt unhealthy coping mechanisms to deal with the addiction, which can lead to codependency and other relational issues.
Sharon Wegscheider-Cruse, an expert on addiction and codependency, outlines six typical family roles in addiction and the dynamics created in families with an addicted individual:
Addict – the person who struggles with addiction
Enabler or Caretaker – often makes excuses for the addicted individual and is usually in denial of any problems
Hero – tries to save face for the family by being successful
Scapegoat – is blamed for the family's problems
Mascot or Clown – tries to reduce stress with humor or getting into trouble
Lost Child – copes by avoiding attention and flying under the radar
Keep in mind that these are merely examples of typical family roles in addiction, and not everyone will fall neatly into one of these categories. The important aspect to remember is that every member of a family is affected in one way or another by addiction.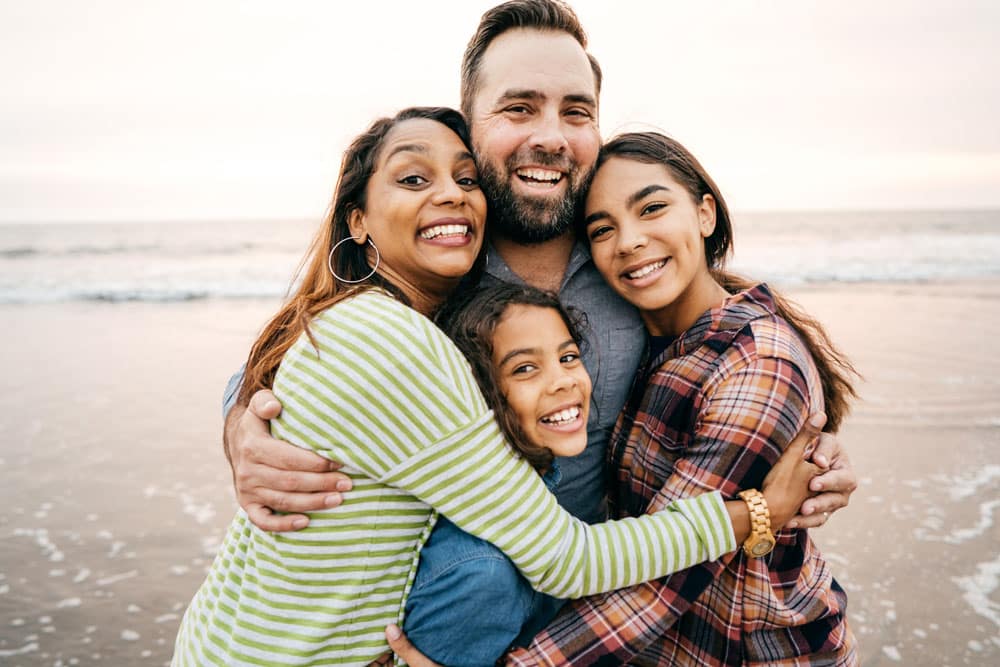 The Importance of Family Support in Addiction Recovery
At The Meadows Malibu, we recognize not only the impact addiction has on families, but the important role families have in addiction recovery. This is why we've welcomed aboard Alexandra Tappan, AMFT, as our family therapist.
Tappan works with individuals in treatment on aspects of their family life and relationships that may be intertwined with their addiction. She helps patients pinpoint any childhood or emotional trauma underlying their addiction, which is often from their family of origin. As she works with her patients on a regular basis, she also brings in family members as needed to work through these issues together.
Another aspect of Tappan's work involves preparing her patients for the transition home after treatment. She helps them establish goals for the transition back to home life and identify what kind of support they will need from family members when they come out of treatment. She then helps her patients relay that information to their loved ones.
While personal, internal work is extremely important in recovery, support systems are a crucial aspect of long-term recovery, and Tappan sees her job as making sure those support systems are ready when patients return home. "People come across a lot of self-insights here," says Tappan, "so we're working on helping build transparency within the family unit or the couple, to set them up for the best success moving [back] home." She also makes sure patients have the practical support they need, like someone to take them to meetings or therapy.
She likens her work to building a bridge from pre-recovery to post-recovery life, which often involves repairing broken trust and relaying new information that patients have learned about themselves or their past. There may be emotional trauma that patients have unearthed in therapy that their family members need to know about, or deep wounds from family members that need to be healed. All of this is important for family members to understand as their loved one returns from treatment.
It's also important to give family members their own space for healing as their loved one goes through recovery. Tappan offers a space for families to come in and do work with her patients, with the hopes that healing will happen throughout the family unit, not just in one individual.
When Family Support Isn't An Option
For many in addiction recovery, support from family members isn't an option or may not be the healthiest option. This can happen for a variety of reasons, and it's actually quite common. Fortunately, "family" comes in all shapes and sizes, and support systems can come in the form of friends, peer support groups, therapists, or others who feel like family.
If Tappan isn't working with family, she is working with therapists, counselors, pastors, case managers, and other forms of support for her patients, building the resources they need to transition back into normal life. What's important is that a support system is in place, and that will look different for everyone who goes through recovery.
That's one of the many benefits of the tailored approach we take at The Meadows Malibu: No individual's journey is the same, so no individual's treatment will look the same. We treat the whole person and their unique needs, using a wide range of treatments and therapies to ensure wholistic and long-lasting healing. This healing is not just for our patients, but their families as well.